Meet Dr. Jeffrey Culbert
Chiropractic Chose Me
"Growing up, my uncle was diagnosed with Lou Gehrig's Disease which progressed very rapidly. At the time, my cousin was a chiropractor who had convinced him to come in for nutritional support and adjustments. My uncle's medical doctors were having a very hard time slowing the disease until my cousin began adjusting him and providing nutritional support. This baffled his doctors, but his disease slowed and my cousin was able to give us an additional two years with my uncle."
From this point on, Dr. Jeff knew that he wanted to work in the field of medicine, but was unsure where. After being accepted to the National College of Chiropractic in 1982, he went to visit the school with an open mind. Upon arriving, he immediately felt at home and knew that chiropractic was his calling.
While in college, Dr. Jeff was blown away by the support of his fellow students and professors' passion for teaching. He had the ability to learn from the best and enjoyed every minute of it.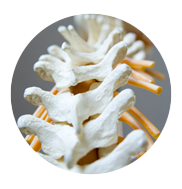 No More Pills or Potions
Healing patients with just the hands is what initially drew Dr. Jeff to chiropractic. Because chiropractic is all about natural relief and correction, there is no need for drugs and prescription medication.
Dr. Jeff has served on the New Jersey Chiropractic Board and was a past instructor of the Activator Methods®. He is a Certified Chiropractic Sports Physician (CSSP®) as well as a coach and consultant for the Master Circle.
Life in the Long Valley and Hackettstown Area
When he's not in the office, Dr. Jeff can be found doting on his grandson, Vincent, along with his wife of 33 years and their four children. As a chiropractor, Dr. Jeff understands the importance of maintaining his fitness and health.
He regularly participates in tough mudders and his high school's annual bench press competition — which he usually wins! Dr. Jeff may be coming to a screen near you, as he recently applied to participate in the newest season of "American Ninja Warrior."
Schooley's Mountain Chiropractic Center also works closely with the Wounded Warrior Project, a charity that provides many services for military personnel injured while serving.
Awaken Your Best Life
Chiropractic adjustments and support can benefit people suffering from a wide range of conditions. If you haven't tried chiropractic care yet, what do you have to lose? Contact our office today to schedule your free consultation.
---
Long Valley Chiropractor | (908) 852-6752